Celebrating International Women In Engineering Day

Posted on 23 Jun 2022
To celebrate Women in Engineering Day we sat down with Keyfix Technical Sales Engineer, Therese Mellon for a Q&A session discussing her journey into Product Design and Technical Engineering, as well as her top Keyfix moments.
Therese has worked within the Keystone Group for going on 3 years, starting in sister company Keylite as a placement R&D Engineer and then she was drafted into Keyfix's team almost two years ago.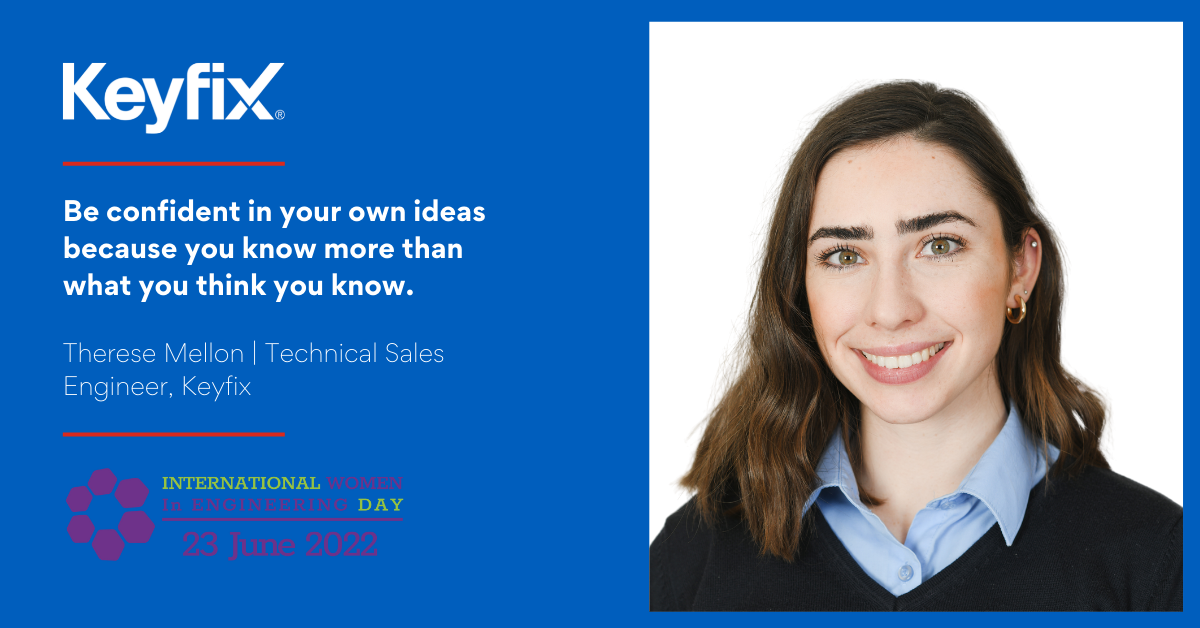 What does your day to day job role look like?
As a Technical Sales Engineer, my job involves scheduling buildings for clients, creating blank drawings and ordering parts ready for site. There's lots of exciting R&D work on the side too, with new products in the pipe line. This entails brainstorming ideas with the rest of the team, designing a range of concepts and developing these through virtual and physical testing.
What drew you to Product Design and Technical Engineering?
I guess I've always been a creative person in many aspects such as art or music. At school, Product Design allowed me to be creative through developing products through sketches and drawings right through to the finished product. So, having decided to study Technology with Design at Ulster University, I was encouraged to be creative through not only design, but also through problem solving and engineering.
After having completed your placement with Keylite, what made you want to come back after you graduated?
I made loads of great friends throughout my time with Keylite so coming back to a warm, friendly environment made for an easy decision. Even as a placement student, I was pushed to constantly improve my skills which helped immensely when completing my final year studies. Because of this, Keyfix is the perfect, fast paced setting where I am encouraged and willing to improve as an engineer.
What has been your favourite thing you have worked on this year and why?
My favourite project this year is working on Keyfix's Sustainability Journey with the other Brand Champions. I can use my engineering background to research alternative materials and manufacturing process that are less impactful on the planet. We have made improvements to our factory with the use of Automatic LED lights, electric Fork Lift Trucks and have upgraded our waste and recycling facilities while making future plans to further decrease our carbon emissions. Building our sustainability timeline has been rewarding and exciting as this is just the beginning of our journey.
There has been many great moments so far with Keyfix, with the team steadily growing in numbers all the time. It is great to see how the company and product has advanced from day 1 and how everyone is willing to adapt as we learn together. It is great to see the structure of the factory and warehouse developing constantly with great additions of tools and manufacturing facilities.
What advice would you give to women considering a career in engineering?
I would say be confident in your own ideas because you know more than what you think you know.