NCCTL
Non-combustible Cavity Tray Lintel
In buildings over 18m in height, Document B prevents the use of plastic DPCs. Galvanised lintels cannot be used without a DPC, as the DPC protects the galvanised surface against attack from chemicals present within mortars etc. Stainless steel trays cannot be used with galvanised lintels due to galvanic corrosion caused by reactions between dissimilar materials.
The Keyfix Non-combustible Cavity Tray Lintel (NCCTL) offers a non-combustible stainless steel single leaf lintel with combined Cavity Tray.
For use in an exterior masonry skin in conjunction with a non-masonry inner leaf such as a steel frame system, the NCCTL is a highly efficient and practical solution to the challenge of non-combustible cavity detailing.
Enquire Now
Non-combustible Class A1 for compliance with Document B in buildings over 18m high
Stainless steel construction with mechanically fixed watertight Stop Ends
Facilitates speedy installation
Utilises traditional onsite trades, no additional specialist skills required
Standard load-bearing capabilities
Why Specify Keyfix NCCTL?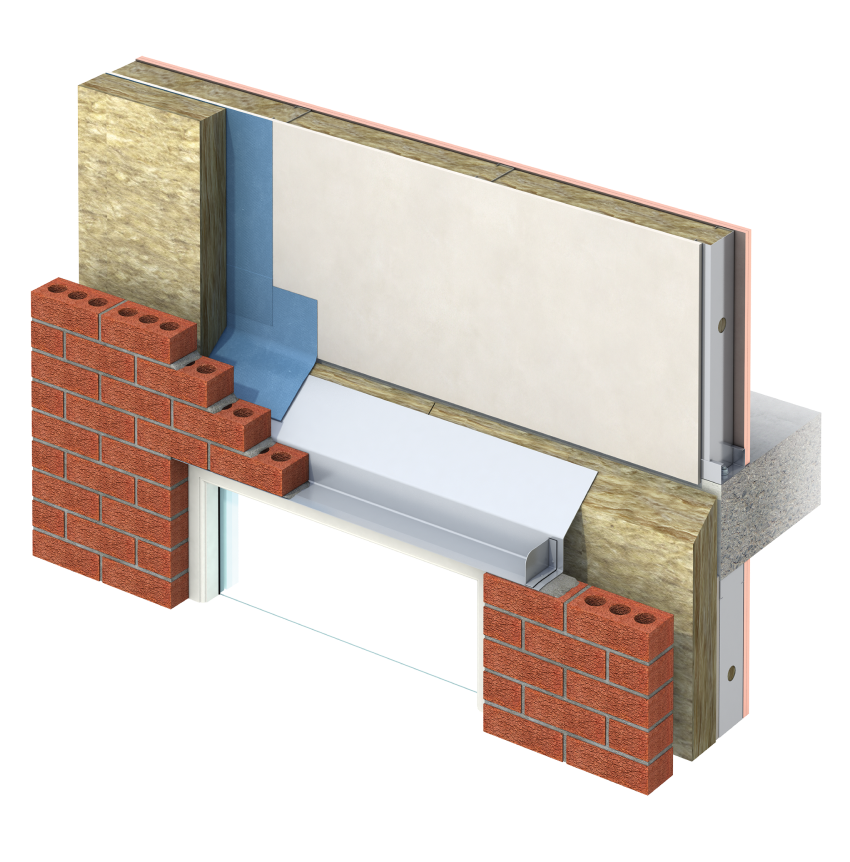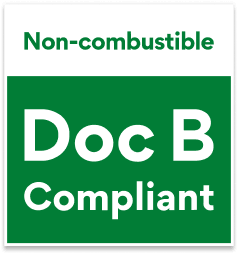 Non-combustible Class A1 Compliant
The Keyfix NCCTL is manufactured using Class A1 Non-combustible stainless steel offering a Non-combustible stainless steel single leaf lintel with combined Cavity Tray. The Keyfix NCCTL is suitable for use at over 18m in height where Document B prevents the use of plastic DPCs and where galvanised lintels cannot be used due to bi-metallic corrosion between dissimilar materials.
High Performance Stainless Steel
The Keyfix NCCTL represents the ideal specification for all applications requiring Document B compliance as it is manufactured using Class A1 Grade 304 austenitic stainless steel. If required in coastal locations, Class A1 Grade 316 austenitic stainless steel should be specified to ensure British Standards and NHBC compliance requirements are met.
Mechanically Fixed Stop Ends
Watertight mechanically fixed Stop Ends are positioned within the brickwork perpendicular joints. The patented mechanically fixed Stop Ends eliminates installation errors caused by onsite conditions, ensuring any moisture present on the NCCTL cannot travel horizontally over the ends of the lintel but is channelled outwards via Keyfix Non-combustible weep. The patented location of the mechanically fixed Stop End allows lintels to be ordered and installed without advance knowledge of brickwork bonds setting out.
Keyfix NCCTL is a practical lintel solution which is built into the outer leaf as normal and facilitates easy access for the profiling of insulation and the overlap positioning of the cavity facing membrane if required. (This should be completed independently, once the lintel is securely built into the brickwork.)
Utilises Traditional Onsite Trades
The installation of the NCCTL requires no additional specialist skills. The ease of installation in the outer leaf combines the structural load bearing lintel with the advantages of a self-supporting Cavity Tray. The rigid self-supporting tray across the cavity enables the bricklayer to install the trays without assistance.
Standard Load-Bearing Capabilities
NCCTLs accommodate openings up to 2822.5mm, with lintel lengths based on brickwork opening sizes with the range based on 215mm stretcher bond as standard. Please contact the Keyfix Technical team if you require any variation from this.
Discuss Your Project
We invite you to make contact with our technical design team to collaborate or enquire about a project.
Contact Us
Request Free CPD Presentation
Discover how our non-combustible solutions work for external masonry facades
Request CPD