Resource Hub
Book a CPD
Our Keyfix Technical team deliver CPD presentations which have been developed to educate architects and specifiers in solving the non-combustible challenge.
KEYFIX CPD
Solving the Non-combustible Challenge with Keyfix Cavity Tray Systems
This CPD will provide key insight into the specification of Document B compliant non-combustible cavity tray solutions which meet the needs of regulators, insurers, developers and installers in buildings over 18m.
The CPD will cover the following:
The non-combustible challenge in high rise buildings over 18m
What is Document B and how to achieve compliance?
Nine key considerations when specifying non-combustible cavity tray systems
Key features and benefits of Keyfix non-combustible cavity tray systems
Design and installation considerations
Specification advice, tools and support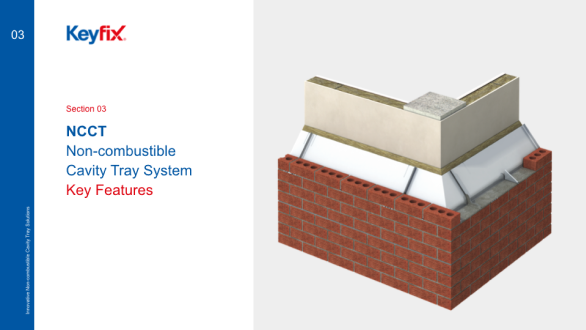 Webinar Dates
Keyfix are currently taking part in a number of FREE online CPDs during the year with DCE, the dates are as follows:
Fire P & P Series
Tuesday Jan 11th @ 2pm
Wednesday March 9th @ 2pm
Tuesday April 26th @ 1pm
Tuesday May 17th @ 2pm
Wednesday June 22nd @ 2pm
Tuesday September 13th @ 2pm
Tuesday October 18th @ 1pm
Wednesday November 9th @ 2pm
London & SE England Events
Tuesday February 15th @ 1pm
Thursday May 12th @ 9.30am
Thursday June 16th @ 1pm
Thursday July 7th @ 1pm
Thursday October 6th @ 1pm
Thursday December 1st @ 10.30am
Discuss Your Project
We invite you to make contact with our technical design team to collaborate or enquire about a project.
Contact Us