Nine Considerations when Creating a Non-combustible Cavity Solution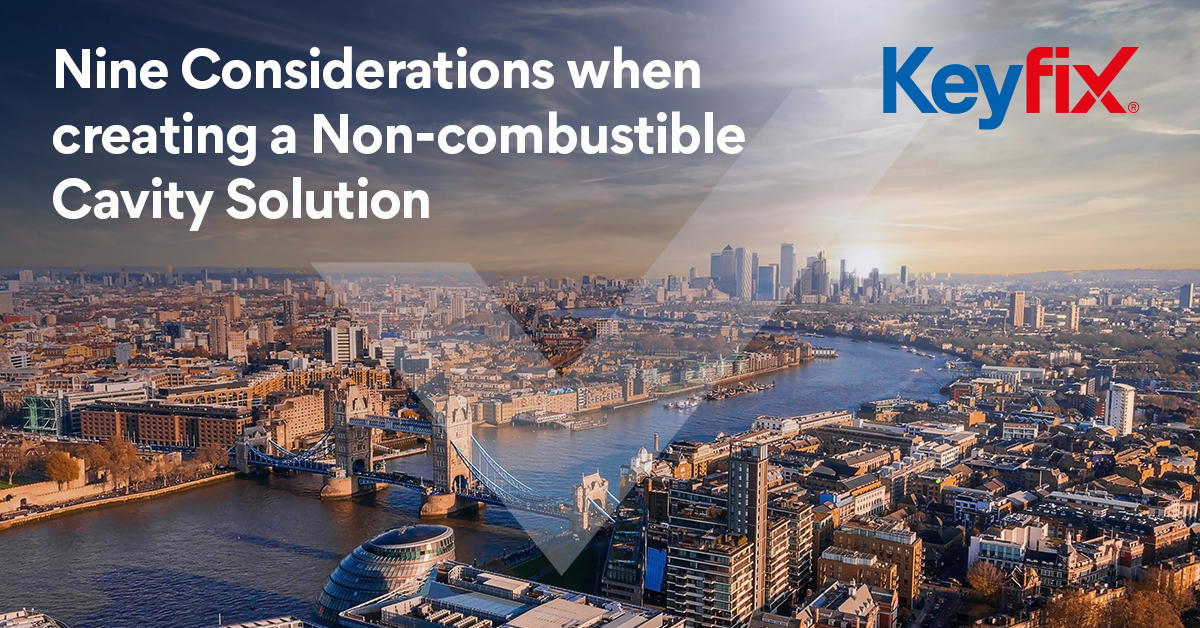 Posted on 03 Aug 2021
Read Keyfix Managing Director, John Duffin's latest blog on the nine considerations that need to be taken into account when creating a Non-combustible Cavity solution.
"Due to changes in regulations prohibiting the use of combustible materials within the external cavities of buildings over 18 metres in height, a number of manufacturers have rushed to create new products and solutions such as non-combustible cavity trays. But in this rush, do we run the risk of bringing products to market that are not quite ready or could have been better engineered?
Whilst Keyfix has been quick to innovate, we have not compromised on quality or performance and have developed a unique and commercially viable, rapid-build solution that is simple to understand and easy to install.
The Keyfix range of external cavity wall solutions has been developed to meet both building regulations and issues with existing cavity trays. But how did we get there? It's important to look at the principal reasons that inspired the development of this unique non-combustible system and why the team created in-depth technical guidance.
As mentioned in my previous blog the road to Keyfix began with an idea to set up a brickwork ancillaries company. Following a conversation with Alan Burdis, the Multi-Storey Manager at Barratts Group, this idea quickly branched into the world of non-combustibility on the back of the new Approved Document B (ADB) fire regulations. The conversation wasn't planned, it was one of those chance discussions that occasionally happens but where one party walks away thinking 'that's interesting, I'm going to do something about that.' And so the idea for Keyfix was born.
Following this initial discussion, we held many industry conversations with leading architects and brickwork contractors and in conjunction with the BRE, BBA, NHBC and Premier Guarantee, we went on to develop and patent a unique solution. These conversations identified nine main concerns that needed to be addressed in order to meet and exceed the expectations of the above stakeholders as well as ADB fire regulations.
To create a product that is truly fit for purpose it is essential that each of these nine criteria are met. With this in mind, the Keyfix team got to work immediately and have created the perfect non-combustible solution to tackle each of these key concerns.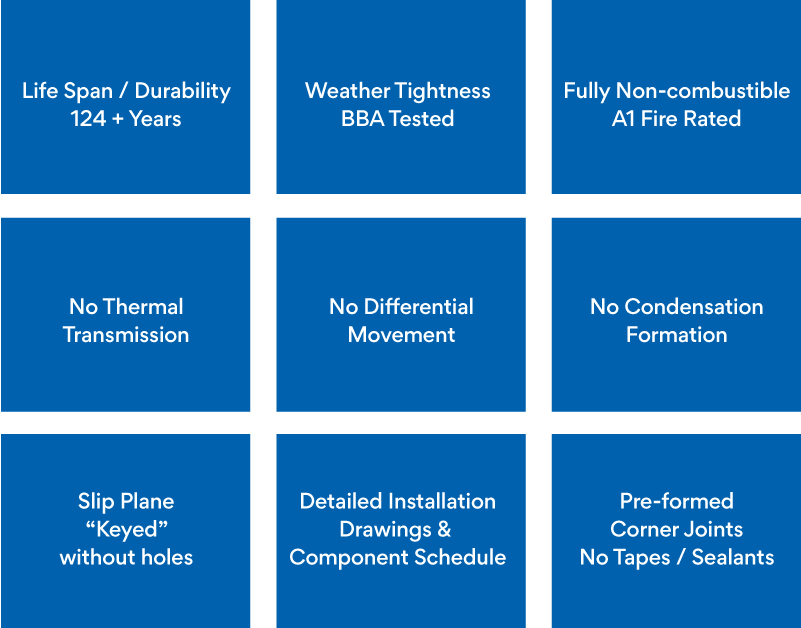 The Keyfix range of products fills the above gaps, providing the complete non-combustible solution for the external cavity. It has a lifespan of 125+ years, holds an A1 Fire Rating, and is a self-supporting tray, independent of the inner leaf which therefore does not create a thermal bridge. The self-supporting nature of the range also leaves zero possibility for differential movement, topped off with a keyed surface area to eliminate slip plane. Installation of the Keyfix range of non-combustibles has also been widely recognised as the easiest and most efficient systems to install.
Discussions with NHBC revealed that the number one reason for reopening the cavity wall of a building after occupation is failures in joints of DPCs and cavity trays formed using tapes, sealants and mastics. The Keyfix team addressed this issue by designing a range that doesn't need tapes or mastics, therefore eliminating the problem. This was one of the main driving points of the product's development. The Keyfix system features an ingenious interlocking mechanism that creates a water tight joint without sealants whilst forming an integral weep vent. Reflecting the system's superior design and performance credentials, it is listed on the NHBC 'Accepts list' and is approved by LABC Warranty and Premier Guarantee for use on major projects.
In order to boost awareness and promote best practice surrounding the use of non-combustible materials within the construction industry, the Keyfix team, alongside guidance provided by NHBC, BBA and Warranty Providers, has created an in-depth Technical Guide. The guide has been created to explain some of the most frequently asked questions specifiers have regarding NCCTs.
The Keyfix Technical Guidance covers important topics such as:
Issues involved in using tapes, sealants and mastics to create water tight joints on site
How perforations designed to resist slip plane can increase the risk of rising damp
The importance of integral Stop Ends
Thermal Bridging and Differential Movement
By asking the right questions and listening, we have created a solution that eliminates one of the main reasons for product failure. It also meets the many other requirements that the industry requires. Building safety is a serious matter and we need to make sure we listen to the experts and respond accordingly. Keyfix innovative non-combustible solutions are designed to not only meet current requirements, but to exceed them.
Keyfix may have been born from a chance conversation but its route through development and onto the market has been one with meticulous planning, research and development to ensure we created a solution that exceeds the requirements and isn't driven by the desire to bring a product to market quickly in order to meet demand.
For more information, the Keyfix Technical Guidance is now available inside the Keyfix Product Guide which can be downloaded here".