Keyfix issued Environmental Product Declaration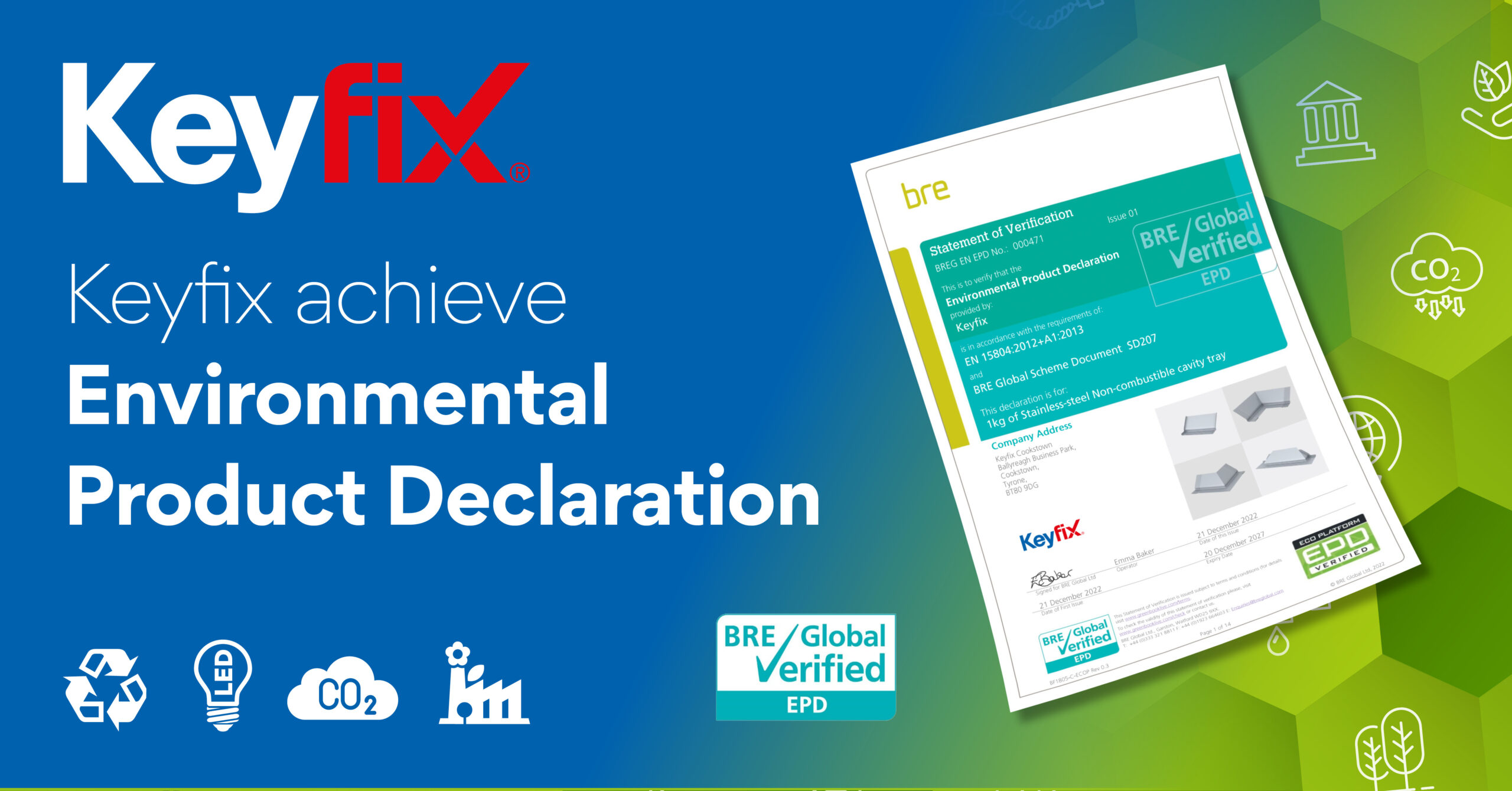 Posted on 15 Mar 2023
Keyfix proves dedication to Sustainability by issuing Environmental Product Declaration.
Keyfix is pleased to announce that it has issued an Environmental Product Declaration (EPD) for its Non-Combustible Cavity Tray (NCCT) according to the GreenBook Live EPD system. This achievement indicates Keyfix's commitment to accurate and transparent sustainability reporting and reduced carbon emissions across its business. 
An EPD is a document that quantifies the environmental impacts of a product. It is a Type III environmental label, generated based on data obtained through a Life Cycle Assessment (LCA). A LCA is performed using a peer-reviewed Product Category Rules document (PCR) in line with EN 15804 (the European Standard for the generation of EPD for construction products), ISO 14025, and other related international standards. By issuing an EPD, Keyfix demonstrates its commitment to being a sustainable manufacturer and supplier.
The EPD verifies that Keyfix's 1kg of stainless-steel non-combustible cavity tray is in accordance with the requirements of EN 15804:2012+A1:2013 and the BRE Global Scheme Document SD07. An EPD is registered as part of the EN 15804 EPD Verification Scheme and is  recognised by the Building Research Establishment (BRE) group, BREEAM (the world's leading science-based suite of validation and certification systems for the sustainable built environment) and the EU's Green Public Procurement Scheme.
Commenting on the EPD, John Duffin, Managing Director of Keyfix stated: "Declaring the environmental impact of our products through EPDs is an important step for Keyfix. An EPD offers our transparency as a business, proving that we can provide ethical solutions to our customers and our dedication to minimising our carbon impact. This move is in line with our goal of providing high -quality products that do not compromise the health of our environment."
The company has also achieved carbon neutrality through verified carbon reduction projects and planting trees in Northern Ireland. This is just one example of how Keyfix continue to look for ways to implement sustainable working practices to help combat climate change and sustain our environment for future generations.
Keyfix's EPD has been launched in collaboration with the Building Research Establishment (BRE), an organisation that is internationally recognised for its expertise in Life Cycle Assessments (LCA) in the construction industry.
To download Keyfix's EPD certificate click here. For more information about the Keyfix range of non-combustible solutions download the product guide, or for technical support call 028 8676 7508 or email info@keyfix.com