Meet Keyfix Research & Development Engineer, Jordan Hone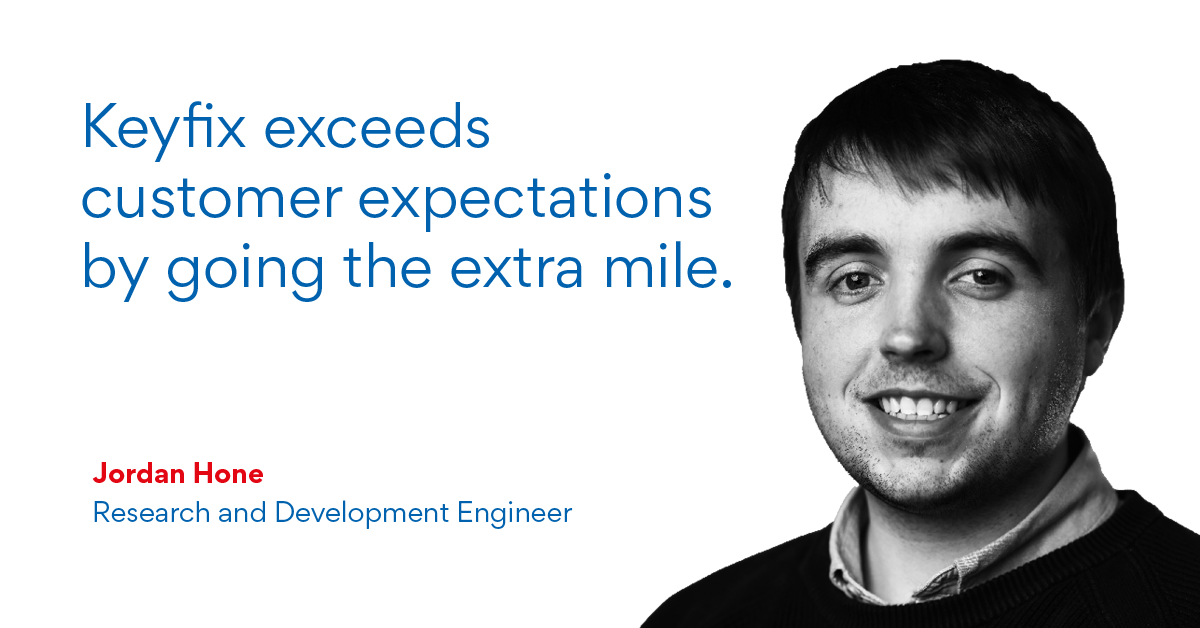 Posted on 21 Jul 2021
Keyfix R&D Engineer, Jordan Hone, has worked within the Keystone Group and Keyfix for almost 3 years now. Jordan talks about his Keyfix highlights alongside the best bit of advice he was ever given and how he implements this into his everyday operations.
How long have you been working within the Keystone Group?
I have been working within the Keystone Group for 2 years. I began as a Research & Development Engineer within Keystone Lintels before making the move to a similar role with Keyfix in July 2020.
Tell me a bit about your job role.
My job responsibilities as a R&D Engineer can differ daily including, developing new product concepts from prototype stage to finished product. These concepts coincide with industry standards and best practice advice from Industry Regulators, such as BBA, and Warranty Providers, such as the NHBC.
I also work alongside Keyfix's Technical Sales team to develop existing products to enhance functionality and quality. I create initial drawings to help develop production tooling and automation.
Lastly, I collaborate with Keyfix manufacturing team to develop quality process plans in line with ISO standards. All of these responsibilities, among others, are always orientating around continuous improvement to help improve the Keyfix product range and enhance Installers and Main Contractors experience of our design package and product range.
What has been your best moment whilst working within the Keyfix team over the past year?
I can't pinpoint one moment which stands out as the "best moment" but seeing how the company has developed over the past year, with the team and manufacturing capability continually developing to meet a growing demand, is a fantastic feeling and very motivating.
Personally, getting the opportunity to help develop a product range from the beginning is like winning the lottery from a career aspect coming from an R&D Engineer. There is so much design scope when beginning with a new product range, and to be involved with a very driven team, within Keyfix and The Keystone Group, that successfully innovated, developed and brought to market a range of BBA tested and NHBC Accepted range of Non-Combustible Cavity Solutions is hugely satisfying.
What are some other highlights that you have experienced over the last year?
There have been many highlights over the past year, from producing and dispatching our first order to DWG Brickwork on EcoWorlds Brentford Stadium Development, to being the first Non-combustible Cavity Tray system to engage with BBA and pass all their certification tests, to having the Keyfix NCCT system included into the NHBC Accepts scheme, to seeing the Keyfix team expand and develop into a determined 30+ strong team over the course of the past year. There have been many highlights which could only have been achieved by a hard-working and dedicated team, not only within Keyfix, but within The Keystone Group who have played a pivotal role from the very beginning.
What is the best advice you have ever heard and how do you use it in your day to day role?
"The customer comes first no matter what". There is a real ethos within Keyfix and The Keystone Group that customer expectations are to be exceeded by going the extra mile. In my role, improving customer service and experience with our product range is a real driving force behind continuous improvement.
Some ongoing projects that I am engaged in is developing and implementing an automated production line within the Keyfix manufacturing site to help reduce the cost of finished products. Ultimately this means that even though the cost of house building materials and A1 Non-Combustible Stainless Steel are continually increasing with growing demand, Keyfix are committed to providing high quality, cost-effective and user friendly Non-Combustible Cavity Solutions.
What sets Keyfix apart?
I believe that what helps Keyfix stand out amongst other systems within the market is that Keyfix consists of a highly motivated and hardworking team which removes the need for onsite design requirements and fabrication.
The "Fit & Forget" nature of Keyfix Non-Combustible Cavity Solutions allows for rapid and flexible install for Bricklayers without any assistance or additional specialist skills or equipment. This is only possible due to each individual Project Manager within Keyfix being responsible for creating a Keyfix Mark-up and Schedule detailing the install location before product reaches site.
If you have any questions surrounding Keyfix's range of innovative of Non-combustible solutions, click here.