Keyfix launches Skin Cancer Awareness Campaign with Competition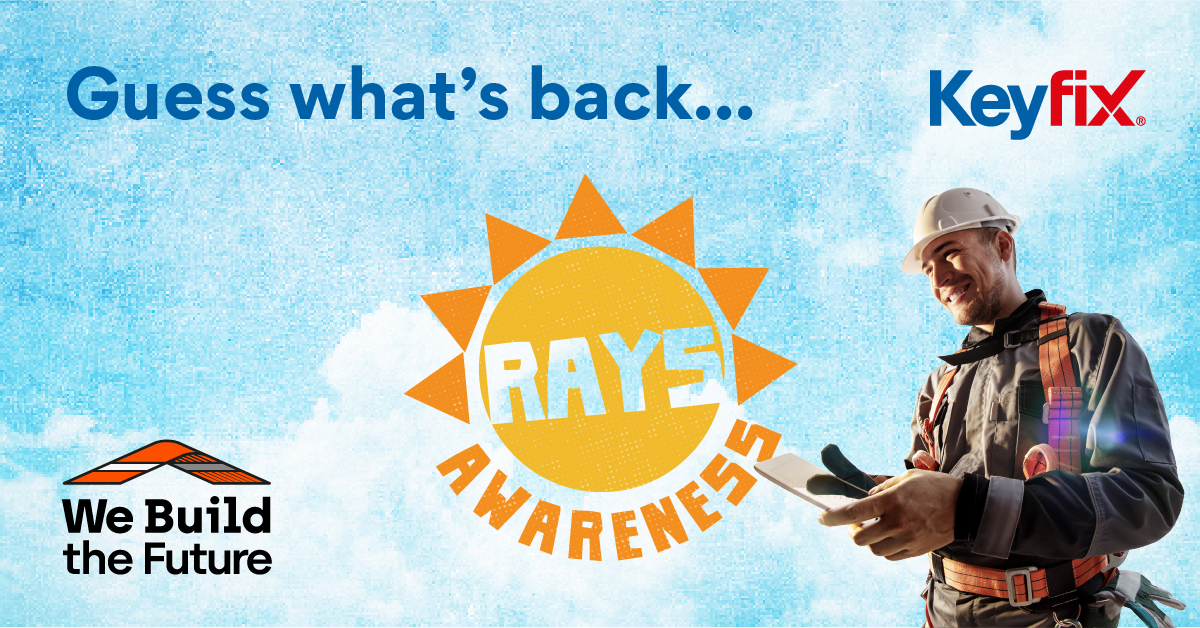 Posted on 02 May 2023
Keyfix is raising awareness about the importance of sun protection for construction workers on building sites, along with the dangers of skin cancer, through its Rays Awareness campaign. As part of this initiative, Keyfix is hosting a weekly Summer Song Quiz, with fantastic summer goody bags to win.
A new study funded by the Institution of Occupational Safety and Health (IOSH) has found that every year there are more than 3,000 cases of skin cancer caused by working outside. According to the Institute for Work and Health (IWH), this figure is set to double by 2060, which means this is a serious risk for construction workers which must be taken seriously.
Keyfix is reinforcing its commitment to promoting sun safety with its Rays Awareness campaign. This initiative aims to educate construction workers on how to stay protected from the sun's harmful rays. Some key tips are:
Cover your skin as much as possible, and wear UV-resistant clothing to enhance skin protection.
Take regular breaks from the sun and find shady areas to prevent sunstroke and skin damage.
Use high-factor sunscreen and make sure you reapply every two hours while out on site.
Spend your time wisely, if you can avoid the hottest part of the working day by getting on-site sooner then do so.
The Keyfix video offers tips for staying site safe in the sun.
______________________________________________________________________________________________________________________________________
Competition – How to get involved
The Rays Awareness campaign will also feature a fun competition called "SummerTheWordsAreMissing." Starting in May, Keyfix will publish popular summer song lyrics with a missing word every week. Participants can submit their guesses for the missing word on LinkedIn or Twitter.
To enter the competition entrants must for a chance to win weekly summer goody bundles:
Follow Keyfix on LinkedIn or Twitter
Like and Share the competition post
Fill in the missing song lyric
One winner will be selected per week from one of our social channels, so best to enter into both to increase your chances of winning!!
As part of the campaign, for every competition entry, Keyfix will also make a charitable contribution* to We Build The Future. This is a charity that supports people who work in the construction and built environment sector and who face the challenge of dealing with cancer in their lives. They also promote health and wellbeing in the construction and built environment sector in order to help reduce the risk of people developing cancer in the first place.
To find out more about the Keyfix Rays Awareness campaign click here.
For more advice on sunscreen and sun safety visit: www.nhs.uk/live-well/healthy-body/sunscreen-and-sun-safety/
*Keyfix will donate £2 per competition entry which will be capped at £200 a week for the duration of the competition (May through to August). Only entrants who are based in the UK and Ireland will be registered into the draw.