Keyfix launches Skin Cancer Awareness Campaign with Competition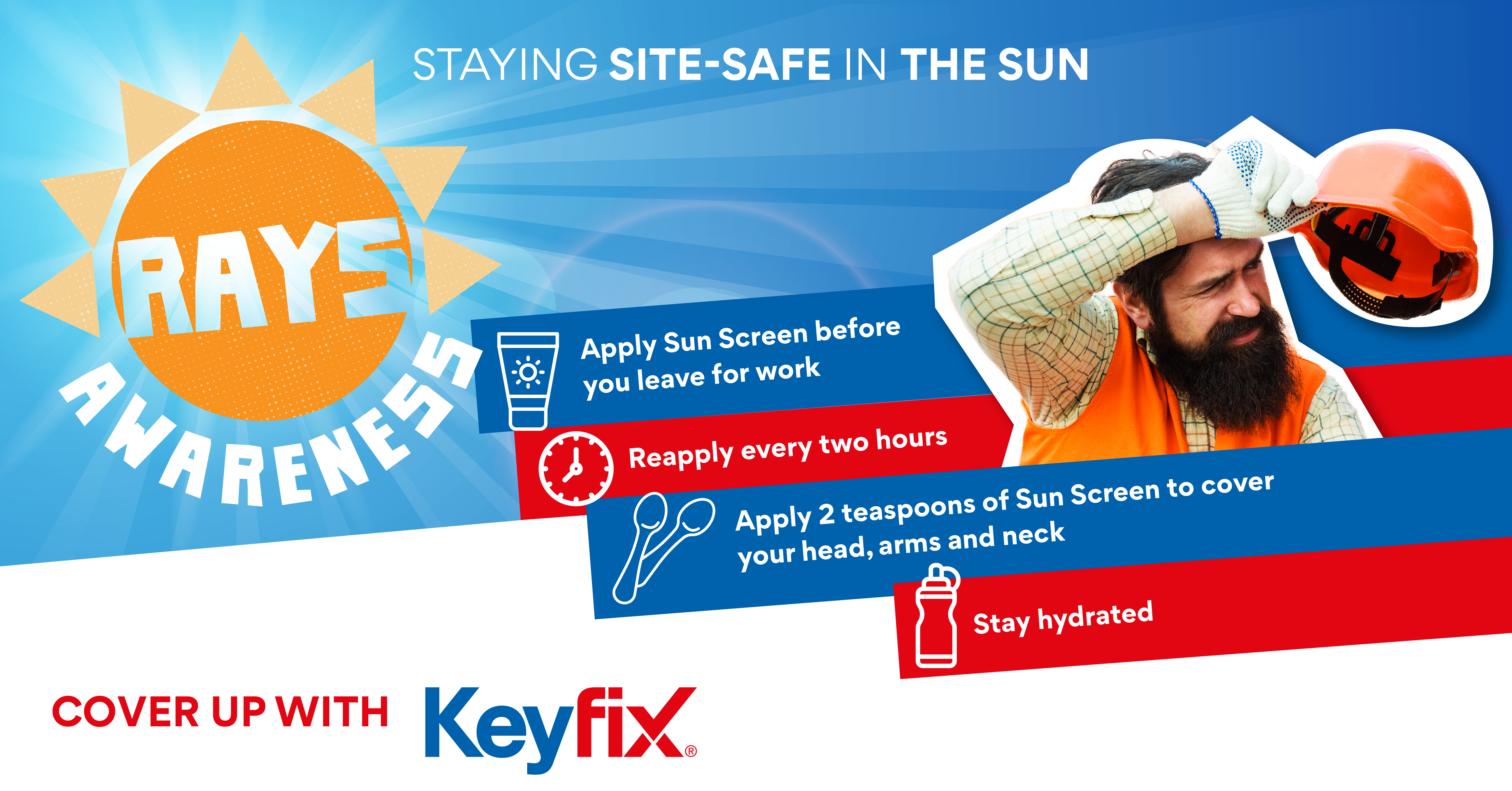 Posted on 27 Jun 2022
To make construction workers aware of sun protection on building sites and the dangers of skin cancer, Keyfix is running a Rays Awareness campaign and offering fantastic prizes in its weekly Summer Song Quiz.
With UV rays at their highest between May and September, the Keyfix Rays Awareness Campaign highlights why construction workers cannot afford to be complacent as they account for 44% of occupational skin cancer diagnosis and 42% of occupational skin cancer deaths each year – which equates to 21 deaths and 101 diagnoses.1
Keyfix is urging construction workers to keep their skin healthy for the long haul by keeping a shirt or top on when working outdoors, wearing a hat, covering-up and using sunscreen.
apply sunscreen before you leave for work.
reapply every two hours.
apply two teaspoons of sunscreen to cover your head, arms and back
Stay hydrated
The Keyfix video offers tips to staying site safe in the sun.
How to get involved
As part of the campaign, Keyfix is running a Summer Song Quiz with fabulous prizes. A couple of lines from a famous summer song will be provided but with one word missing. The player has to guess what the missing word is e.g. 'Summer lovin' _________ so fast.'
The 12 week long competition will be held on our LinkedIn and Twitter channels and all you have to do to enter is:
Fill in the missing song lyric
Like and Share the competition post
Follow us
One winner will be selected per week from one of our social channels, so best to enter into both to increase your chances of winning!!
You have the chance to win a Summer Bundle Prize (each week) which includes – Portable Cooler, JBL Portable Speaker and Keyfix Sunscreen.
Further advice on staying site-safe
For more advice on sunscreen and sun safety visit:
www.nhs.uk/live-well/healthy-body/sunscreen-and-sun-safety/
1Peer reviewed research published in the British Journal of Cancer