Why Keyfix are Champions of Best Practice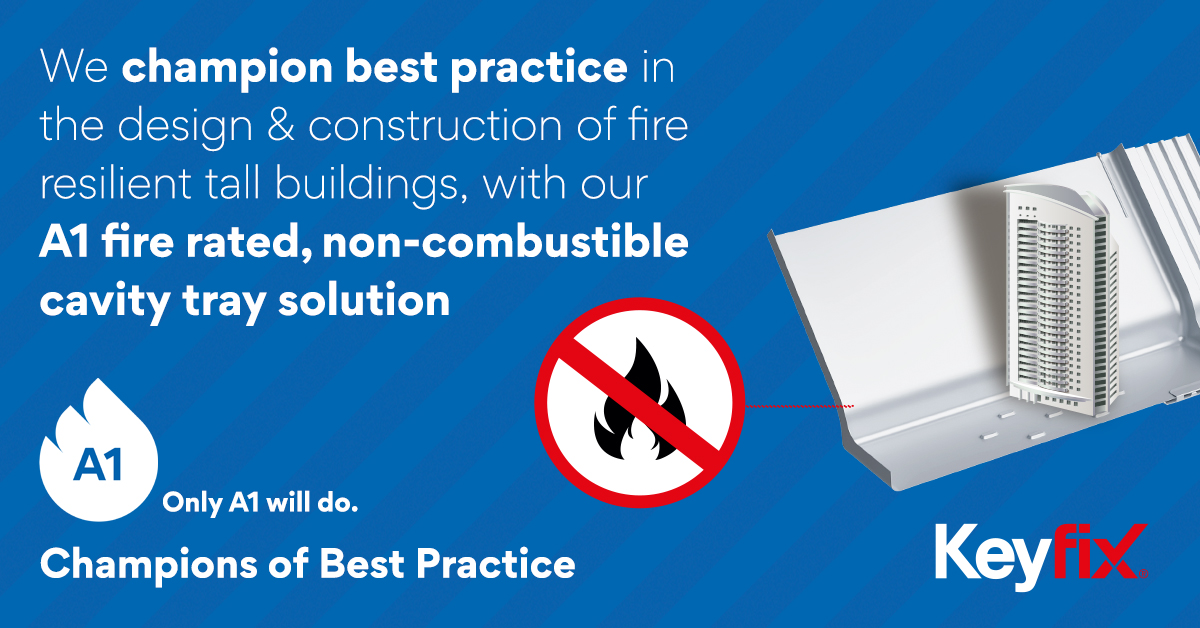 Posted on 20 Oct 2022
Read Keyfix Managing Director, John Duffin's latest blog on why Keyfix is a best practice champion, the importance of A1 and concerns around the latest Cavity Tray exemption.
"The government recently declared an exemption within the building regulations in relation to the use of non combustible Cavity Trays in most high rise residential buildings. This was initially intended to allow the industry to get up to speed with the new legislations on high rise buildings, however its introduction eighteen months after industry had solved the problem has caused widespread confusion amongst specifiers and contractors. It comes as a relief to many that the government has confirmed that this is only a temporary 18-month relaxation, ending on 1st December 2023. Despite these changes, Keyfix is continuing to champion best practice in the use of non-combustible A1 Cavity Trays to ensure buildings are constructed to the highest standard of fire safety during the exemption period.  This is why.
The government has assured the industry of its intentions to revert back to non-combustible products.  Whilst this is excellent news, we are left wondering why the government won't act to rescind the exemption with immediate effect? This seems like the logical choice, especially given Cavity Trays are one of the few items which pass through every vertical fire compartmentation barrier and the reintroduction of a combustible product within the cavity is a disaster waiting to happen. This exemption re-introduces an ignition line and an unnecessary risk back into the cavities of high-rise buildings, even though there are now numerous A1 Fire Rated alternatives available to the market.
Unfortunately, it could take the government months to overturn the temporary relaxation. Therefore, whilst we wait for the 18-month period to run its course, now is the time for architects and housebuilders to do the right thing and insist on best practice.
Whilst Keyfix is pleased with the government announcement confirming the exemption is only temporary, it has dangerous implications. If a housebuilder receives building control approval within the 18-month window, they could begin a five-year project using combustible materials. In this case, specifying combustible materials during the 18-month period would be completely compliant with regulations at the time the building began construction. Although this would be perfectly legal, it presents an unnecessary risk for potential building users and creates further legacy issues down the line.
Problems the market will face
Furthermore, the temporary exemption could cause issues for the market. Given the recent retrospective remediation demands and legacy issues these assets could now have, insurance companies, warranty providers and mortgage companies have rallied in support of non-combustible products regardless of the exemptions. It is clear that these parties do not want to lend money, or put a premium on a building that they know could have complications further down the line.
Beyond the 18-month period, buyers are highly unlikely to buy homes which are no longer considered safe against fire. This is a heightened concern given the Grenfell tragedy. Therefore, the re-introduction of combustible materials could have significant consequences for building owners and housing associations for years to come.
Why A1 is the best practice
For housebuilders, architects and specifiers, Keystone Group's advice remains the same: use non-combustible, A1 fire-rated products to ensure that your building remains futureproof. None of us can predict when issues are going to arise, we can only act in the best interest of safety to design out risk. Therefore, designing to the top-end of regulations will ensure a building is in a much better position than if it was designed to the minimum standard, which will eventually become outdated. It's also worth questioning, if the typical lifespan of a masonry façade building is over 150 years, why are components still being installed with lifespans that do not even come close to that of the building within which they are installed? In particular mastics which are concealed within the cavity and not maintainable!
At Keyfix, we are championing best practice, which is why we manufacture our products to the absolute highest standard. Our Keyfix Non-Combustible Cavity Tray (NCCT) is A1 fire-rated, which means that it is completely futureproof. Using our NCCT safeguards your building against any potential regulation change.
Robust materials are best practice
A1 products are made of stainless-steel, giving you peace of mind that its fire-resistant quality will never deteriorate. A2 rated products do not offer the same fire resistance. A2 products on the market consist of glass fibres, plastic polymers, aluminium, and copper which do not compare with the high fire resistance of stainless-steel products. Additionally some of these products are a backward step in best practice as they rely on bricklayers to cut and tape them together on the scaffold – a practice that has been frowned upon by Warranty Providers and Building Inspectors for almost 20 years. As an advocate for best practice the Keyfix NCCT is supplied as a system, complete with factory fabricated corners and self-supporting trays which all incorporate integral stopends as standard.
Moreover, sustainability is a big concern for the industry, with many questioning the embodied carbon of construction materials. Keyfix A1 products are manufactured from green steel and are also fully recyclable at the end of their natural life.
Same price, higher value
When you consider the combination of the high quality and sustainable benefits of A1 products, you would assume that they are more expensive. This is not the case. Across the range of A1 and A2 rated Cavity Tray products available there is little or no difference in cost, with the rigid self-supporting Keyfix system offering significant labour savings due to their ease of installation, therefore, removing any commercial barrier to specifying to the highest standard.
Closing the gap between design and build
Many within the construction industry there is a lot of talk about the gap between design and build, and fire-rated products are one prominent example of this. If assets are designed to meet the minimum standard, homeowners can easily find themselves below the minimum standard when on site conditions interfere or regulations eventually change.
Safety is always a high priority for the construction industry. Additionally, by using a highly robust product, the building is covered for future use – at no higher cost than other products on the market. Join Keyfix in championing best practice in the design and build of robust fire safe buildings.
To find out more about why Keyfix is a best practice champion click here."