The Difference between A1 and A2 Fire Rating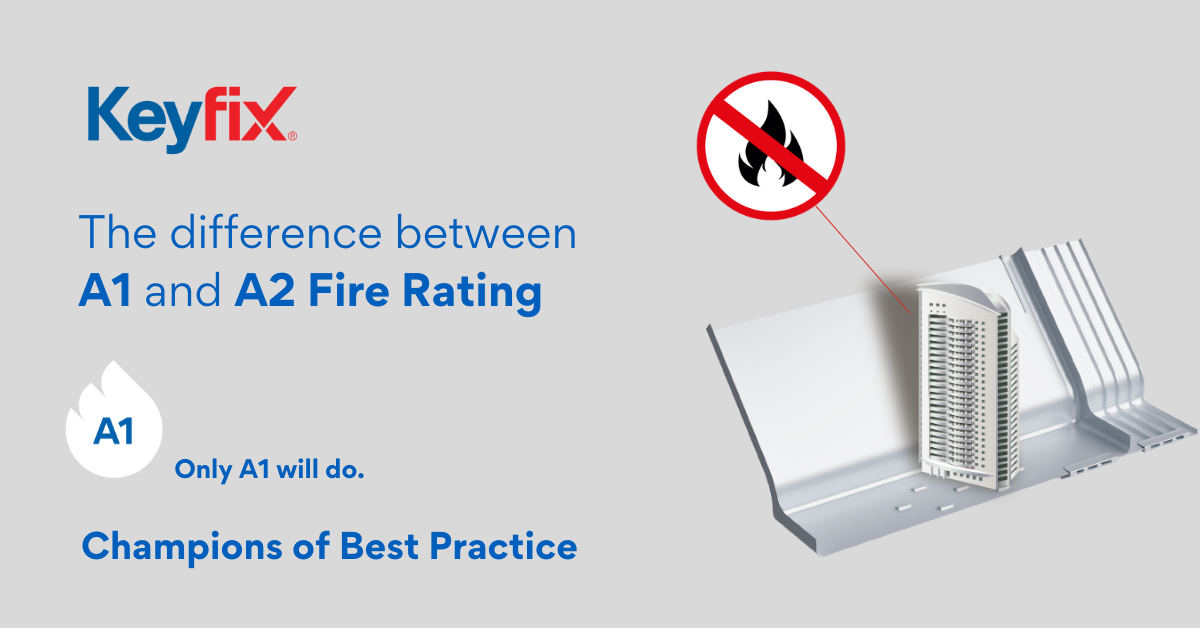 Posted on 04 Jan 2023
Read Keyfix Managing Director, John Duffin's latest blog on euroclass fire ratings and the difference between A1 and A2 and the importance of championing best practice when designing tall buildings.
"Despite the government's temporary exemption of the combustible product ban on buildings over 18m, Keyfix and many of its industry peers are championing best practice to ensure that buildings are built to the highest standard of safety. However, some may still not be aware of the significance of the Euroclass fire rating system and what it means for their building.
The government has assured the construction industry of its intentions to revert to non-combustible cavity tray products, confirming that the temporary exemption will end December 2023. Therefore, the changes to Approved Document B will soon again come into effect, making fire safety a priority for the sector. To achieve compliance with Document B, materials must achieve a minimum fire classification of A2-s1-d0 or A1 in accordance with BS EN 13501-1:2007+A1:2009. Whilst both A1 and A2 materials comply with the building regulations, there is a difference.
What is A1?
The Euroclass system was designed as a standardised test method across the EU and is also used as a British Standard test regarding fire and protection. The Euroclass system of classification is made up of stacked levels, meaning that the higher the class, the stricter the rules of compliance become. For building materials, classification rules are based on 'Resistance to Fire' and 'Reaction to Fire'.
A1 is the highest rating any product can achieve. An A1-Rated material is defined as a material that does not contribute to fire at any stage, including a fully developed fire.
Benefits of A1
The benefits of an A1 Fire-Rated product are:
Paramount safety
Futureproofing
Protection against legacy issues
As this is the highest rating that any product can achieve, housebuilders, architects and specifiers can rest assured that their building is using one of the safest products on the market for fire safety and it will never contribute to fire loading in the building.
Additionally, A1 fire-rated products ensure that your building remains futureproof. We can never predict when issues are going to arise. Therefore, designing to the best possible standard will ensure a building is much safer and futureproofed than if it was designed to the minimum standard, which could eventually become outdated.
Although the government has stated that the exemption on non-combustible cavity trays is only temporary, it is therefore currently legal to use combustible cavity tray products as part of a construction. While this is legal at present, it could likely cause future issues for the market. Given the legacy issues these assets could have, it is encouraging that insurance companies, warranty providers and mortgage companies have come out in support of non-combustible cavity tray products. These parties do not want to lend money or put a premium on a building that they know could have complications further down the line. Using an A1-rated product will ensure that your building is protected against legacy issues.
What is A2?
A2 non-combustible cavity tray products on the market consist of glass fibres, plastic polymers, aluminium, and copper which do not compare with the high fire resistance of stainless-steel products.
Keyfix Non-Combustible Cavity Tray is A1 fire-rated
At Keyfix, we are champions of best practice, which is why we manufacture our products to the absolute highest standard. Our Keyfix Non-Combustible Cavity Tray (NCCT) is A1 fire-rated, meaning that it is completely futureproof. Using our NCCT safeguards your building against any potential regulation change. The majority of A1 non-combusitble cavity trays available are made from stainless steel, giving you peace of mind that its fire-resistant quality will never deteriorate.
If assets are designed to meet minimum standards, homeowners can easily find themselves below the minimum standard if regulations eventually change. Therefore, specifying and using A1 fire-rated products is best practice.
It's also worth noting that there is no discernible price difference between A1 and A2-rated products, therefore removing any commercial barriers to specification. Conscientious housebuilders, specifiers and architects should look to employ A1 fire-rated products, such as the Keyfix Non-combustible Cavity Tray."
For more information on championing best practice click here.