Non-combustible Cavity Trays: Improving Industry Best Practice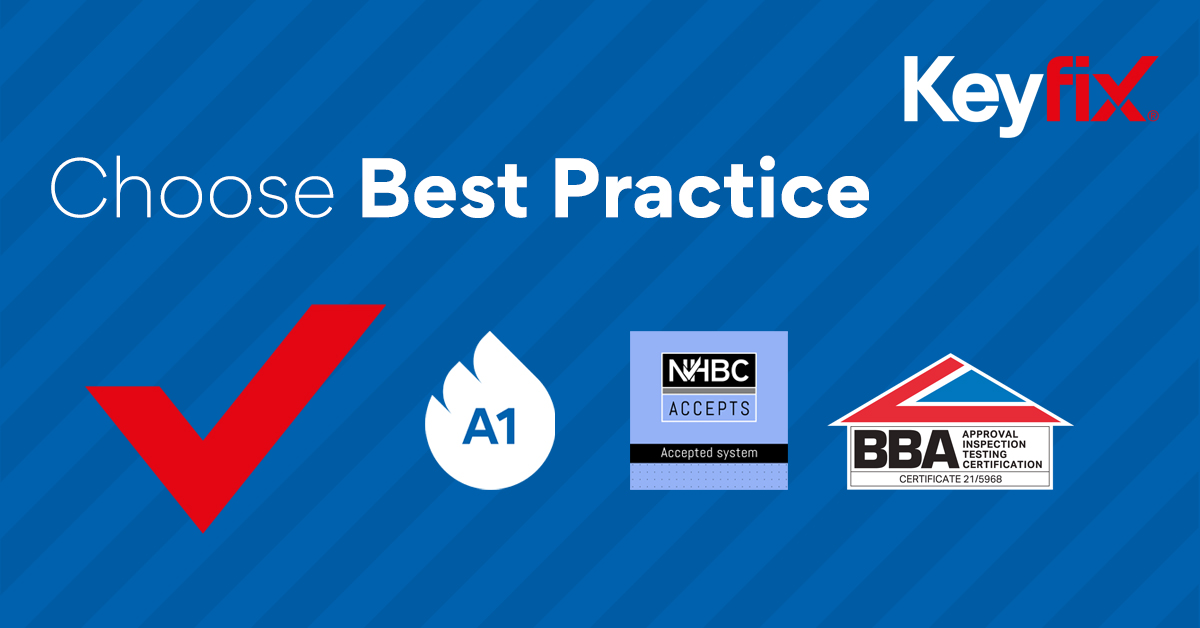 Posted on 15 Mar 2022
Read Keyfix Managing Director, John Duffin's latest blog on "Improving Industry Best Practice" and why manufacturers shouldn't cut corners.
"With construction product manufacturers under increasing scrutiny in this post-Grenfell world, product transparency has become the order of the day to reduce the performance gap and maintain standards. Manufacturers must not be in a situation where they simply create a product which is then sent to a building site and then becomes someone else's problem. This simply gives the industry a bad name.  Manufacturers need to deliver a standard of practice which exceeds expectations to build.  But just what is best practice and how does Keyfix champion best practice in every product it creates?
Transparency is key and Keyfix works closely with the British Board of Agrément (BBA) and invests in rigorous testing so that we can offer quality assurances and can improve industry best practice. We set the standard early in the industry by bringing ground-breaking innovations to market which were developed in response to market demand and by troubleshooting an issue the company has seen the industry face.
When you look at the development of the Keyfix Non-Combustible Cavity Tray (NCCT) System, our team worked hard to create a product that exceeds the minimum standards set out in ADB (Approved Document B). It has been awarded a BBA Certificate, listed on the NHBC 'Accepts list' and is approved by Premier Guarantee and other major Warranty Providers. It is the only non-combustible cavity tray system that does not rely on tapes and mastics to make watertight joints, therefore eliminating one of the main reasons for product failure.
Discussions with NHBC revealed that the number one reason for reopening the cavity wall of a building after occupation is failure in joints and Stop Ends of DPCs and cavity trays formed using tapes, sealants and mastics.
The Keyfix team addressed this issue by designing a range that doesn't need tapes or mastics, therefore eliminating the problem. This was one of the main driving points of the product's development. Designed and built for best practice on site, the Keyfix system features an ingenious interlocking mechanism that creates a watertight joint without sealants whilst forming an integral secondary weep vent. By eliminating the use of sealants at joints, the possibility of installation errors caused by onsite conditions which can render some tapes, sealants and mastics useless has been removed.
In short, the responsibility for the most critical part of the system and ensuring the installation of the product is fit for purpose is lumbered on the bricklayer on site. A building site does not have laboratory perfect conditions, so the slightest deviation from those conditions caused by on-site dust, or moisture for example can cause system failure. It's therefore very hard to achieve a robust installation with tapes and mastic. Clearly, this is not best practice.
Best practice is where manufacturers can guarantee their entire system, otherwise we enter into another Grenfell situation where we are cherry picking and approving parts of a system. Third-party certifiers must be certifying the entire system. The more elements of install a manufacturer leaves to other parties to create a perfect install the more they are de-risked. Which then begs the question, who will be the one to pay the price when these buildings are deemed unsafe?
Ultimately, the industry must not cut corners as there is no place for second best in our built environment with industry best practice at risk. Our buildings must be robust and resilient and this starts with the correct specification of materials. At Keyfix we do not believe that the target for product development should be the minimum allowable standard, as this does not allow for any "on-site tolerances". If a system is designed to achieve the minimum allowable standard and then encounters conditions on-site that further challenge its performance it can easily drop below the minimum required standard, resulting in a return to the "gap" between what has been designed and what has been built, which has dominated the headlines for the last few years. Our unique range of external cavity wall solutions provide architects, contractors and specifiers with full assurance that the entire system has been designed and tested to achieve the highest industry standards. A system designed to the minimum standards does not consider the impact of on-site conditions and human factors when being installed, which can result in a system which is not as robust as it is intended and required to be. "
For more information about the Keyfix range of non-combustible solutions, download the product guide, visit https://keyfix.com/or for technical support, call 028 8676 7508 or email info@keyfix.com